Energy Classes
Pranic Healing Level 5:
Psychic Self-Defense
with Greg Toews

July 7, 8
Friday: July 7, 6:00 - 10pm
Saturday: July 8, 9am - 6pm
Location: North Andover, MA
Fee: $350 $300 until July 3
Registration: go to this page.
---
Pranic Healing Level 1
with Miriam Smith

July 21, 23, 2x`4
Friday: July 21, 6:30 - 9pm
Saturday: July 22, 9am - 6pm
Sunday: July 24, 9am - 6pm
Location: North Andover, MA
Fee: $350 $325 until July 10
Registration: go to this page.
---
Reviewers - $75

CEUs available for massage therapists.
To receive your completion certificate, you must attend all days of the course.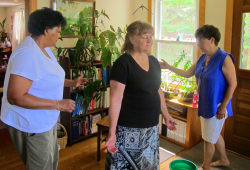 Teachers

Miriam Smith, MS Ed.
Certified Pranic Healer/Instructor

Greg Toews
Certified Pranic Healer/Instructor
From a base of many years of one-on-one sessions with Grand Master Choa Kok Sui, Greg Toews has been a full-time instructor since 2004. He teaches Basic, Advanced, Psychotherapy, Crystal, Self-Defense, and Achieving Oneness.
---
Energy Healing
Pranic healing is a non-touch healing system.
Miriam offers the following:
Private Sessions
Individual healing sessions usually of one hour's duration. Sessions are specific to the patient's requests and needs.
Group Sessions
Held at your location. For these, Miriam leads a meditation for the group, followed by individual healings.
Remote Healing
These sessions may be done via webcam (Skype) or at a specific time without use of a webcam. This also is called Distance Healing.

Note that all energy healing is performed without physical contact and is not dependent on the proximity of the healer and patient. The healing is equally effective in person or at a distance.
---
To schedule a healing session or clinic, contact Miriam at:
mgsenergy@comcast.net
or
978-807-1634.
---
For more information about energy healing, please go to the Energy Healing page.
---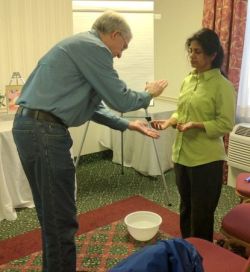 ---
Pranic Healing Review
Brush up on your Pranic Healing Techniques!

Review and Practice:
* Techniques to reap the most benefit from the
Meditation on Twin Hearts
* Clarifying Concepts
* Scanning
* Cleansing
* Energizing

This class is open only to those who have completed at least Pranic Healing Level 1.

Location
North Andover, MA
Contact Miriam for more information
---
Plant Prana:
Sacred Plants and
Their Teachings
with Greg Toews
July 8, 9
Saturday: July 8, 7pm - 10pm
Sunday: July 9, 9am - 6pm
Location: North Andover, MA
No Prerequisites
Fee: $275 $225 until July 3
Registration: go to this page.
- Receive an essential oil kit worth $150 with the class
- Discuss and experience rare and precious essential oils
- Learn how to apply precious essential oils to get the most out of them
- Practice your ability to develop a deeper understanding of the oils and their properties
- Discuss plants from the Bible, Buddhism, Hinduism, Judaism, and Indigenous cultures
- Learn their application and the deeper meaning for their application
- Discover what these sacred plants teach us and the deeper teachings they reveal
- Practice the most effective way in applying these oils to the body
- Increase your "conductivity" to the Divine using these oils and improve meditation
- Find ways to feel very peaceful with simple steps
- Learn blends from sacred writings and why to use them
- Release psychological energies with easy "step-by-step" processes
- Deepen your prayer and meditation practice
- Learn the three different goals in meditation and how to cultivate them
- Plus more
Meditations and Practice Sessions
Miriam offers three regular meditations:
Meditation on Twin Hearts
This weekly meditation on Thursday evenings opens the heart and crown chakras of the meditator. Life energy is channeled through the body of the meditator to the earth and its inhabitants. The energy of the body is cleansed and stress is relieved. The body is energized.
Full Moon Meditation
This monthly meditation invites the group to become a channel for the downpour of Divine energies and blessings. In the process, the group and the individual meditators become active channels for the Divine energies directed to Earth and all people and beings.
Arhatic Yoga Meditations
These meditations include Arhatic Yoga meditations.
Unlike the Twin Hearts and Full Moon medtitations, which are open to the public, the Arhatic meditation is available only to individuals who have graduated from specific Arhatic levels.
For more information, please go to the Meditations and Practice Sessions page.