Energy Classes (see course descriptions in right-hand column)
Pranic Healing Level 1
with Miriam Smith
November 3, 4, 5
Friday: November 3, 6:30 - 9pm
Saturday: November 4, 9am - 6pm
Sunday: November 5, 9am - 6pm
Location: Richmond, Virginia
Fee: $350
Registration: go to this page.
---
Reviewers - $75

CEUs available for massage therapists.
To receive your completion certificate, you must attend all days of the course.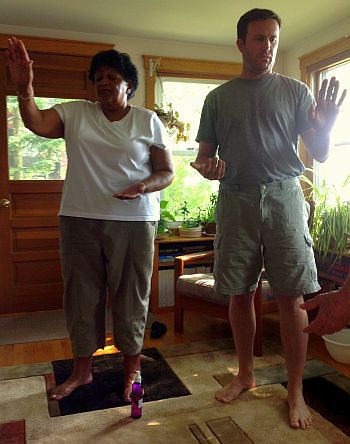 ---
Teacher

Miriam Smith, MS Ed.
Certified Pranic Healer/Instructor
Pranic Healing Level 1: Basic
Learn how the body's energy system, the aura, health rays, and chakras affect the healing process.
Learn how to feel and see pranic energy in order to scan 11 major chakras and the aura.
Energetically determine your state of health.
Develop a meditation practice that increases your healing power and your energetic body.
Learn how to heal yourself and others.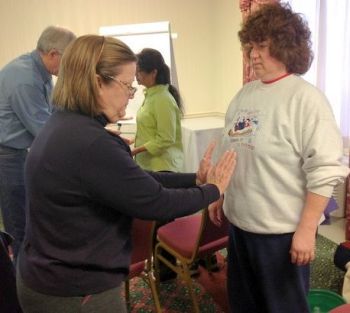 The curriculum includes teaching —
-- self-scanning and self-healing
-- how to heal mild and more severe stress
-- how to heal simple ailments such as a wound or pain
-- how to heal more complex ailments
-- how to maintain physical and emotional balance
-- how to maintain the integrity of your own energy
-- system when around unhealthy or stressed people
-- how to maintain energetic hygiene as a healer
-- powerful breathing techniques
-- remote healing
Practice protocols for —
-- respiratory system
-- digestive system
-- circulatory system
-- immune system
Pranic Healing Level 2: Advanced
With Advanced Pranic Healing, learn how to use colored pranic energy for quicker, more effective healing effect.
Skills you will learn in this class include:

-- The right proportion, combinations and hues of colored prana to create s more focused healing effect.
-- Advanced scanning to more quickly and effectively interpret and assess the correction of imbalances in the chakras and energy field patterns.
-- Powerful, specialized techniques for rapid healing of wounds, cellular regeneration, cleansing of the internal organs, cleansing of the blood, and techniques to boost the immune system
-- High level energetic methods of enhancing the body's innate healing ability, and techniques for working on AIDS, cancer, diabetes, stroke, and other severe ailments
-- Instructive healing to influence and re-program the consciousness of diseased cells and organs to help accelerate healing and recovery
Pranic Healing Level 3: Pranic Psychotherapy
With Pranic Psychotherapy, apply pranic healing techniques to heal and alleviate emotional and mental imbalances.
You will learn to:

-- Quickly and safely release negative emotions and traumatic experiences that lodge in the aura and chakras to form crippling energetic patterns.
-- Use advanced energetic extraction techniques to alleviate phobias, compulsions, addictions, and depression.
-- Shield and protect your energy body and material possessions, remove negative influences from others (jealousy, anger, and so on), and heal the effects of psychic attacks.
-- Self-heal tension, irritability, grief, and anxiety.
Pranic Healing Level 5: Psychic Self-Defense
-- Learn how to minimize the effects of stress energy from others
-- Practice building multi-layered shields for protection and to minimize others draining you
-- Develop skills dealing with people who drain you
-- Practice very deep cord cutting
-- Learn practical ways to minimize
-- Learn the mechanics of what a psychic attack is and how to neutralize it
-- Use shielding techniques to help improve your meditation and business activity
-- Discuss the "radiatory field" and learn how it effects you -discover prayers, mantras, and meditations that help insulate you from the chaos in the environment
-- Use shielding techniques to accelerate physical and psychological healing
-- Learn what essential oils to use when dealing with difficult people
-- Discuss different types of psychic attacks so you can recognize them as they happen
-- Manage stress better
-- Experience deeper levels of peace by applying protective techniques
-- Discover how much you are impacted by your environment
-- Learn the properties of different colored pranas when applied for protection -discuss ancient techniques used for protection
Pranic Healing Review for Level 1
Brush up on Pranic Healing Techniques!
Review and Practice:
* Techniques to reap the most benefit from the
Meditation on Twin Hearts
* Clarifying Concepts
* Scanning
* Cleansing
* Energizing
This class is open only to those who have completed at least Pranic Healing Level 1.
Location
North Andover, MA
Contact
Miriam
for more information
---