Energy Classes:
Pranic Healing Level 1
with Miriam Smith
February 24, 25, 26
Friday: February 24, 6:30 - 9pm
Saturday: February 25, 9am - 6pm
Sunday: February 26, 9am - 5pm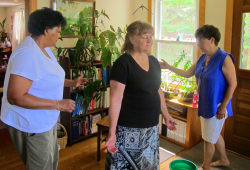 Location
North Andover, MA
Contact Miriam for more information

Registration Form
To register, go to this page.

Registration Fees
Level 1 - $325 until Feb. 12
Reviewers - $75

CEUs available for massage therapists.
To receive your completion certificate, you must attend all days of the course.
Teachers

Miriam Smith, MS Ed.
Certified Pranic Healer/Instructor

Greg Toews
Certified Pranic Healer/Instructor
From a base of many years of one-on-one sessions with Grand Master Choa Kok Sui, Greg Toews has been a full-time instructor since 2004. He teaches Basic, Advanced, Psychotherapy, Crystal, Self-Defense, and Achieving Oneness.
Plant Prana Workshop: Essential Oils for Pain and Relaxation
with Greg Toews
Jan. 27, 28, 29
Friday: Jan. 27, 6:30pm - 9:30pm
Saturday: Jan. 28, 9:00am - 5:30pm
Sunday: Jan. 29, 10:00am - 5:30pm
No Prerequisites
Cost: $225.00 With Preregistration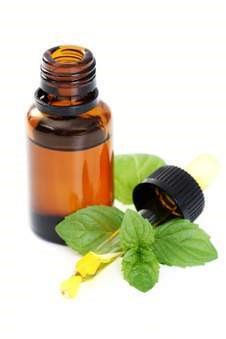 Location
North Andover, MA
Contact Miriam for more information

Registration Form
To register, go to this page.

All Registrations must be completed by Jan. 12.

- Receive essential oils and a kit valued at $150.
- Learn how to use single oils and various approaches to creating a blend
- Discuss individual oils and their properties
- learn approaches for many common pain and tension related conditions
- Develop your abilities to gain deeper understanding of the properties of the oils
- Learn the mechanisms to the pain response and how to address this response
- Discuss different types of pain and learn easy "step-by-step" approach
- Discuss different oils for pain and relaxation and how to effectively apply them
- Learn what systems to treat to enhance the treatment of pain and deepen relaxation
- Learn how to treat the inflammatory response and why it is so important to consistently address in everyone
- Discuss and treat the by-products of chronic pain such as anxiety, sleep issues, etc.
- Learn to treat the nervous system, nervous tension, and nervous fatigue, which contributes to chronic fatigue and fibromyalgia
- Discuss how to address the depression that can arise from chronic pain
- Learn several different approaches to deepening relaxation and improving sleep
- Plus more.

- First time ever -- create your own individual essential oil protocol with Greg Toews!


---
Meditations and Practice Sessions
Miriam offers three regular meditations:
Meditation on Twin Hearts
This weekly meditation on Thursday evenings opens the heart and crown chakras of the meditator. Life energy is channeled through the body of the meditator to the earth and its inhabitants. The energy of the body is cleansed and stress is relieved. The body is energized.
Full Moon Meditation
This monthly meditation invites the group to become a channel for the downpour of Divine energies and blessings. In the process, the group and the individual meditators become active channels for the Divine energies directed to Earth and all people and beings.
Arhatic Yoga Meditations
These meditations include Arhatic Yoga meditations.
Unlike the Twin Hearts and Full Moon medtitations, which are open to the public, the Arhatic meditation is available only to individuals who have graduated from specific Arhatic levels.
For more information, please go to the Meditations and Practice Sessions page.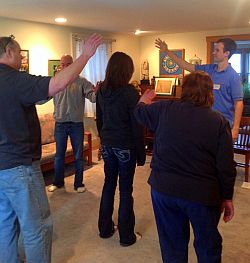 ---
Pranic Healing Review
Brush up on your Pranic Healing Techniques!

Review and Practice:
* Techniques to reap the most benefit from the
Meditation on Twin Hearts
* Clarifying Concepts
* Scanning
* Cleansing
* Energizing

This class is open only to those who have completed at least Pranic Healing Level 1.

Location
North Andover, MA
Contact Miriam for more information
---
Energy Healing
Pranic healing is a non-touch healing system.
Miriam offers the following:
Private Sessions
Individual healing sessions usually of one hour's duration. Sessions are specific to the patient's requests and needs.
Group Sessions
Held at your location. For these, Miriam leads a meditation for the group, followed by individual healings.
Remote Healing
These sessions may be done via webcam (Skype) or at a specific time without use of a webcam. This also is called Distance Healing.

Note that all energy healing is performed without physical contact and is not dependent on the proximity of the healer and patient. The healing is equally effective in person or at a distance.
---
To schedule a healing session or clinic, contact Miriam at:
mgsenergy@comcast.net
or
978-807-1634.
---
For more information about energy healing, please go to the Energy Healing page.
---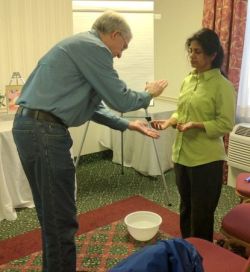 ---