Authority
Saturday, January 24, 10am to 6pm
Sunday, January 25, 10am to 6pm
a Pathwork workshop led by
Julia Jenson, Pathwork Helper
sign up early - limited space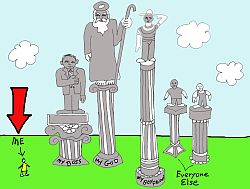 The issue of authority is multidimensional and present in most humans.
As children, we wanted to know someone was there, taking care of us.
Later, we must consider other authority figures in our lives: law-makers, law-enforcers, bosses, God… and on and on.

Have you ever wondered who is in charge?
Have you ever rebelled when someone tells you what to do?
Have you ever wanted to take control?

How wonderful to be able to let go of responsibility for a few moments, or to be able to stand our ground.

And what about God as the ultimate authority? Are we condemned before we do anything? Or is God loving and forgiving?

The Pathwork gives us a framework to discover our beliefs and consider how those beliefs affected our lives. We may include movement, ritual, meditation, or experiential exercises.

Join us in exploring these widely-held belief systems.

Location
North Andover, MA
Contact Miriam for location information

What to bring
Comfortable clothes for movement, lunch, and pot luck for dinner

Cost
$135. Go here to register.
Questions about Pathwork?
Call Julia at 804-781-0660.
Julia Jensen is a Pathwork Helper, a teacher in the Transformation Program, and a Certified Healer. She works with individuals and groups using energy and intuition. Julia believes that we are all spiritual beings in human form who have the life task of opening to love.
---
Pranic Healing Review
Brush up on your Pranic Healing Techniques!

Review and Practice:
* Techniques to reap the most benefit from the
Meditation on Twin Hearts
* Clarifying Concepts
* Scanning
* Cleansing
* Energizing

This class is open only to those who have completed at least Pranic Healing Level 1.

Location
North Andover, MA
Contact Miriam for more information

When: TBA


Energy Classes
Pranic Healing Level 1 Workshop
February 28 and March 1
sign up early - limited space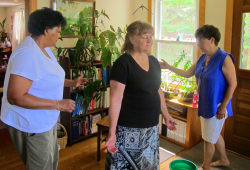 Location
North Andover, MA
Contact Miriam for more information

Time
9am to 6pm (both days)

Registration Form
To register, go to this page.

Registration Fee
$350

Online registration close date:
February 20
To register after the close date, contact Miriam.

Reviewers — $75
CEUs available for massage therapists.
To receive your completion certificate, you must attend both days.
---
Energy Healing
Pranic healing is a non-touch healing system.
Miriam offers the following:
Private Sessions
Individual healing sessions usually of one hour's duration. Sessions are specific to the patient's requests and needs.
Group Sessions
Held at your location. For these, Miriam leads a meditation for the group, followed by individual healings.
Remote Healing
These sessions may be done via webcam (Skype) or at a specific time without use of a webcam. This also is called Distance Healing.

Note that all energy healing is performed without physical contact and is not dependent on the proximity of the healer and patient. The healing is equally effective in person or at a distance.
---
To schedule a healing session or clinic, contact Miriam at:
mgsenergy@comcast.net
or
978-807-1634.
---
For more information about energy healing, please go to the Energy Healing page.
---
Teacher
Miriam Smith, MS Ed.
Certified Pranic Healer/Instructor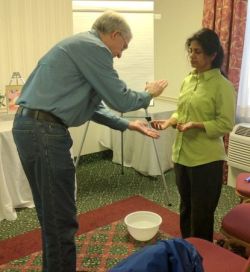 Meditations and Practice Sessions
Miriam offers three regular meditations:
Meditation on Twin Hearts
This weekly meditation on Thursday evenings opens the heart and crown chakras of the meditator. Life energy is channeled through the body of the meditator to the earth and its inhabitants. The energy of the body is cleansed and stress is relieved. The body is energized.
Full Moon Meditation
This monthly meditation invites the group to become a channel for the downpour of Divine energies and blessings. In the process, the group and the individual meditators become active channels for the Divine energies directed to Earth and all people and beings.
Arhatic Yoga Meditations
These meditations include Arhatic Yoga meditations.
Unlike the Twin Hearts and Full Moon medtitations, which are open to the public, the Arhatic meditation is available only to individuals who have graduated from specific Arhatic levels.
For more information, please go to the Meditations and Practice Sessions page.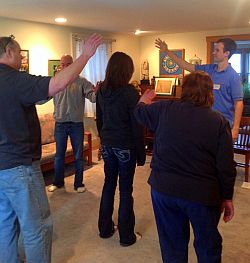 ---
Sugar Addiction Workshop
Using Energy to Jumpstart Healing of Sugar Addiction
Want help breaking your sugar addiction?
Sugar addictions are extremely challenging.
The solution may be to energetically change unbalanced energy that surrounds the physical body.

In this 3 hour workshop, we

1. Begin with a meditation that energetically cleanses and balances you and supports your determination to overcome your addiction to sweets.
2. Practice energetic techniques that will further ground and strengthen your energetic field so that you will be receptive to healing techniques.
3. Demonstrate the effect of sugar on each chakra.
4. Offer a group healing for sugar addictions.
5. Offer individual healings within the class setting.
6. Measure energetically the level of sugar addiction before and after healings.
7. Offer suggestions for stabilizing sugar addiction.

Watch this CBS Video to learn about the effectiveness of Pranic Healing.
Pay special attention to the reporter's experience with sweets.

When: TBA