Energy Healing
Pranic healing is a non-touch healing system.
Miriam offers the following:
Private Sessions
Individual healing sessions usually of one hour's duration. Sessions are specific to the patient's requests and needs.
Group Sessions
Held at your location. For these, Miriam leads a meditation for the group, followed by individual healings.
Remote Healing
These sessions may be done via webcam (Skype) or at a specific time without use of a webcam. This also is called Distance Healing.

Note that all energy healing is performed without physical contact and is not dependent on the proximity of the healer and patient. The healing is equally effective in person or at a distance.
---
To schedule a healing session or clinic, contact Miriam at:
mgsenergy@comcast.net
or
978-807-1634.
---
For more information about energy healing, please go to the Energy Healing page.
---
Energy Classes
---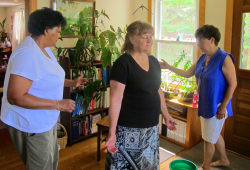 Teacher

Miriam Smith, MS Ed.
Miriam offers private Pranic Healing sessions to alleviate stress, pain, insomnia, acute and chronic complaints, physical and psychological disorders, as well as to maintain good health. Sessions are available in person or remotely.

Pranic Healing Credentials
Miriam Smith, MS Ed., is a certified Pranic Healing teacher, a certified Pranic Healer, and a Master Reiki practitioner. She treats private patients, teaches Level I Pranic Healing workshops including other healing workshops, leads meditation groups, and hosts Pranic Healing higher classes.

Pathwork Credentials
Miriam is an Associate Pathwork Helper, a graduate of the Pathwork Transformation Program of the Mid-Atlantic Pathwork in Madison, VA, a graduate of the Advanced Pathwork Study program, and of the Mid-Atlantic Pathwork Helper Training School.

Educational Therapy Credentials
Miriam is an Educational Therapist and a Certified Orton - Gillingham specialist and Certified Dyslexia Therapist. She creates individual curricula depending on the level and needs of the student.
---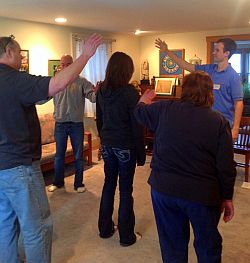 Plant Prana Workshop: Wisdom of the Heart
with Greg Toews
July 24, 25, 26

Friday: July 24,
7:00pm - 10:00pm
Saturday: July 25,
9:00am - 6:00pm
Sunday: July 26,
9:00am - 6:00pm
No Prerequisites

Cost: $225 - Registration must be in by July 20th to receive oil kit.
After July 20th: $275

Registration and Payment
To register and pay, contact Miriam.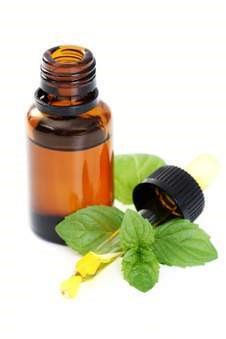 Location
Zoom. The Zoom link will be sent the night before.
Contact Miriam for more information

- Receive an aromatherapy kit worth $150.
- Discuss essential oils that best heal psychological issues.
- Learn how to address different types of psychological energies without having to relive the past.
- Discuss the four different types of psychological energies and how to address them.
- Understand stress and have better tools for managing it.
- Learn how pain impacts the body and affects you psychologically.
- Learn how to better deal with change and gain the ability to overcome obstacles.
- Discover techniques that help to reduce the effect of negative people in your life.
- Treat patterns rather than focusing on specific events.
- Use sleep mechanisms and memory therapies to gently release the past.
- Work with Archetypes to shift patterns in your life.
- Discuss universal Archetypes and how they impact you.
- Practice a technique that helps bring in desired patterns and people in your life.
- Work with specific Angels to shift patterns in your life.
- Use oils for meditation for deeper psychological healing.
- Plus more...
---
Plant Prana
Workshops -- 2020
with Greg Toews

July 24, 25, 26:
Wisdom of the Heart

October 9, 10, 11:
Topic to be announced

December 4, 5, 6:
Topic to be announced
---
Greg Toews
An early innovator in Advanced Medical Aromatherapy applications, John Gregory Toews has initiated research and development coupled with application and affects as it relates to medical syndromes, symptoms, and disorders.
Extensive Research and Development
► Charted out physiological and psychological effects of brain waves.
► Determined different triggers and precursors to autoimmune
► Developed multifaceted approach to post traumatic stress syndrome with Master Choa Kok Sui
► Developed treatments for depleted adrenals, overactivity adrenals, and hyper-reactive adrenals,conditions
► Explored energy medicine and medical aromatherapy on treatment of various chemical addictions
► Much more...
Education
► Apprenticeship with Emaha, Native American Medicine Man Trained in traditional healing through "the Fire Dance"
► Discipleship with Master Choa Kok Sui, Founder of Pranic Healing, Manila, Philippines
► Pranic Healing Training, U.S. Pranic Healing, Chino, CA.
► Courses include: Pranic Healing, Level 1-5, Higher Clairvoyance, Sexual Alchemy, Kriyashakti, Pranic Feng Shui, Achieving Oneness with the Higher Soul, Spiritual Essence of Man, Kabbalistic Meditation on the Lord's Prayer, Super Brain Yoga, Inner Teachings of Hinduism, Inner Teaching of Buddhism, Certified Spiritual Business Management
► Fellowship with Indigenous of Hawaii, trained in "The Awa Ceremony"
► Residency with Medicine Man Canopachawakan, Lakota Tribe; Pine Ridge Reservation, South Dakota, Trained in ceremonial healing through the use of sweat lodges, pipe ceremony, sun dance and healing through plants.
► Internship with Master Paul Rodriguez & Master Miyako Rodriguez
► Cranial Manipulation Certification, St. John's Neuromuscular Therapy Institute
► Certified Massage Therapist specializing in Clinical Medical Shiatsu
Essential Oils
Greg has studied Robert Tisserand and Kurt Schnaubelt, Ph.D. He holds these certifications:
► Advanced Medical Aromatherapy Certification
► Medical Aromatherapy Certification
---
Pranic Healing Level 1
with Miriam Smith
Next class
to be announced