Energy Classes
Pranic Healing -- Level 1
with Miriam Smith
May 21 & 22
9am to 6pm each day
Advanced Pranic Healing -- Level 2
with guest instructor Greg Toews
Prerequisite: Level 1
April 23 & 24
9am to 5pm each day
Crystal Pranic Healing -- Level 4
with guest instructor Greg Toews
Prerequisite: Level 1
April 22, 23, 24
6pm to 10pm each day
Energetic Approach to
Classic Aromatherapy
with guest instructor Greg Toews
No prerequisites
April 29 (6pm to 10pm) &
April 30 (9am to 9pm)
Receive essential oil kit including single oils, bottles for blending, and labels for your creations valued at $150.
Learn about essential oils and their properties. Receive quick reference booklet for essential oils.
Achieving Oneness with
the Higher Soul
with guest instructor Greg Toews
Prerequisite: Level 1
May 1, 9am to 7pm
The purpose of yoga is to realize that you, the incarnated soul, are one with your Higher Soul. The purpose of yoga is union with your Higher Soul and union with all souls. [MCKS]
Learn powerful meditation techniques.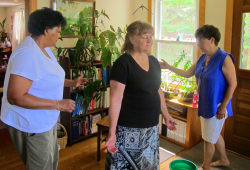 Location for all classes
North Andover, MA
Contact Miriam for more information

Registration Form
To register, go to this page.

Registration Fees
Level 1, May - $350 ($325 until May 1)
Level 2 - $500
Level 4 - $350
Classic Aromatherapy - $195
Achieving Oneness - $350
Reviewers (Levels 1, 2, 4) - $75

For package discounts that may apply to Levels 2, 4, and Achieving Oneness, contact Miriam.

CEUs available for massage therapists.
To receive your completion certificate, you must attend all days of the course.
Teachers

Guest Instructor:
Greg Toews [Levels 2, 3 & 4]
Certified Pranic Healer/Instructor
From a base of many years of one-on-one sessions with Grand Master Choa Kok Sui, Greg Toews has been a full-time instructor since 2004. He teaches Basic, Advanced, Psychotherapy, Crystal, Self-Defense, and Achieving Oneness.

Miriam Smith, MS Ed. [Level 1]
Certified Pranic Healer/Instructor
Intro to Pranic Healing
Saturday, April 16
1:00pm -- 4:00pm
Mechanicsville, Virginia
$30
✔ Learn about this complete system of energy medicine.
✔ Learn how to experience
energy for healing.
✔ Learn a powerful meditation for balancing the body's energetic system.
► Go to this page to register now.
Sunday, April 17 -- private healing sessions available

July 9/10 -- Level 1 Basic Workshop
Mechanicsville, Virginia
---
Meditations and Practice Sessions
Miriam offers three regular meditations:
Meditation on Twin Hearts
This weekly meditation on Thursday evenings opens the heart and crown chakras of the meditator. Life energy is channeled through the body of the meditator to the earth and its inhabitants. The energy of the body is cleansed and stress is relieved. The body is energized.
Full Moon Meditation
This monthly meditation invites the group to become a channel for the downpour of Divine energies and blessings. In the process, the group and the individual meditators become active channels for the Divine energies directed to Earth and all people and beings.
Arhatic Yoga Meditations
These meditations include Arhatic Yoga meditations.
Unlike the Twin Hearts and Full Moon medtitations, which are open to the public, the Arhatic meditation is available only to individuals who have graduated from specific Arhatic levels.
For more information, please go to the Meditations and Practice Sessions page.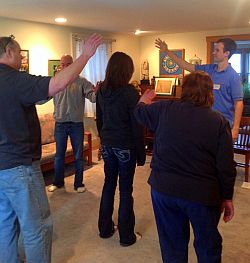 ---
Pranic Healing Review
Brush up on your Pranic Healing Techniques!

Review and Practice:
* Techniques to reap the most benefit from the
Meditation on Twin Hearts
* Clarifying Concepts
* Scanning
* Cleansing
* Energizing

This class is open only to those who have completed at least Pranic Healing Level 1.

Location
North Andover, MA
Contact Miriam for more information


---
Energy Healing
Pranic healing is a non-touch healing system.
Miriam offers the following:
Private Sessions
Individual healing sessions usually of one hour's duration. Sessions are specific to the patient's requests and needs.
Group Sessions
Held at your location. For these, Miriam leads a meditation for the group, followed by individual healings.
Remote Healing
These sessions may be done via webcam (Skype) or at a specific time without use of a webcam. This also is called Distance Healing.

Note that all energy healing is performed without physical contact and is not dependent on the proximity of the healer and patient. The healing is equally effective in person or at a distance.
---
To schedule a healing session or clinic, contact Miriam at:
mgsenergy@comcast.net
or
978-807-1634.
---
For more information about energy healing, please go to the Energy Healing page.
---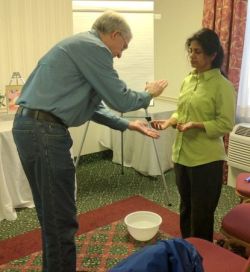 The Language of the Heart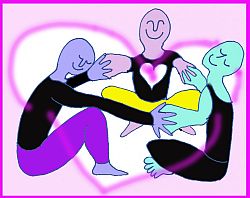 Saturday, April 2, 10am to 5pm
Sunday, April 3, 10am to 5pm
a Pathwork workshop led by
Julia Jenson, Pathwork Helper

sign up early - limited space

Private sessions with Julia on April 1

Register here.

Connecting with another from the heart enriches our lives.
Our society teaches connection through the mind, which sadly limits us.
It is the courage to meet another
in willingness to share our being
that we can find joy and fulfillment.

We humans live in a time where we have the unique opportunity to choose to live from a place of love or from complaint and criticism. Often we unconsciously develop defenses that ensure that those we attract to us are those who give us exactly what we want to avoid. In learning to live from the place of an open heart, we can attract abundance, positive relationships, and peace.

Join Julia in in diving deeply into the beliefs that influence who we choose for relationships and who is attracted to us. We may use experiential exercises, movement, spiritual practices, meditation, and deep sharing from the heart.

Location
North Andover, MA
Contact Miriam for location information

What to bring
Comfortable clothes for movement, and lunch.

Cost
$175. Go here to register.

More information about Pathwork
Go to this link.

Questions about Pathwork?
Call Julia at 804-781-0660.
Julia Jensen is a Pathwork Helper, a teacher in the Transformation Program, and a Certified Healer. She works with individuals and groups using energy and intuition. Julia believes that we are all spiritual beings in human form who have the life task of opening to love.
---